Installation, Maintenance and Repair of Solar Voltaic systems and hot water heating.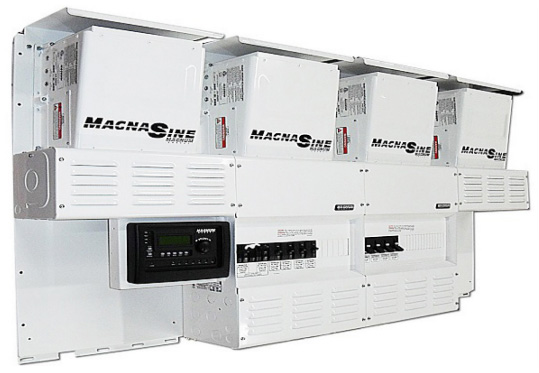 Power Panels
Magnum products use the highest quality components to respond to the extreme conditions of variable climates. Pre-assembled. Pre-wired. Fully-tested. Ready to be installed Power Panels. All Magnum Energy Power Panels Include the Following:
Magnum Inverter/Charger
Magnum Mini Panel with AC/DC breakers
MPPT Charge Controller
Battery Monitoring Kit
Remote Control or Advanced Remote Control
Battery to Inverter Cables housed in Flexible Conduit
Mounting Back Plate
Easy Connection Points for Solar and AC Wiring
CSA Evaluated as a Unit
Metis Nation Magnum Energy Power Panels Brochure
Sacred Sun Lead Carbon Batteries
The Power of Lithium Without the Cost
The patented technology from Furukawa: Japanese Furukawa battery company's advanced lead carbon technology, product design, and manufacturing experience, produces high performance AGM VRLA batteries with deep cycles for a superior energy storage system.
Extremely long cycle life: Using long-life technology and design, Sacred Sun batteries provide more than 5000 cycles @50% depth of discharge for a life span of over 14 year
Innovative Lead Carbon Technology: Using lead carbon technology improves the charge acceptance ability, reduces the negative plate sulphation, and is more suitable for partial state of charge (PSOC) applications.
Sacred Sun Battery Comparison Chart
Solar Panel Top of Pole and Ground Mounts
Top of Pole Mount Features:
All aluminum frame components
Stainless steel fasteners
Powder coated steel gimbal on 6" pole mount
Ease of seasonal tilting from 0° to 90°
Engineered to withstand 50 psf
Ease of rotation for aiming due south
Two week lead time typically
Fits most framed solar panels
Easy to Assemble
Minimal tools required
Two week lead time to manufacture
Metis Nation Top of Pole Mounts Brochure
Solar Grid-Tie
Borrowing money for an investment in Solar Grid-Tie can be cash positive in year one. The combination of rising electrical rates and falling solar product costs has created the perfect storm for a wise investment in clean energy. It is projected that electrical rates in British Columbia will increase annually at a rate of 5%. So besides reducing or eliminating your electrical bill, where else can you get a 5% return annually on a working investment? Studies have shown that home values increase by at least the original capital cost of the solar system.